WELCOME!
You've probably seen the newspaper ads that "hype" Spinal Decompression Therapy asking you to call some unknown doctor's office in order to receive a free report in the mail. We do not believe anyone should have to do that!
Our website will give you the complete facts about Spinal Decompression Therapy including clinic trials that support its effectiveness.
And we will also tell you the approximate treatment cost. We do that so you will be better able to make an informed decision about what you should do for your condition and because our fees are a fraction of what some other clinics charge.
For additional information, please call our office at 252-430-8000 and ask to talk to Dr. Brandon Taylor. That's right, I'll talk to you personally in order to help you make the right decision.
THANKS FOR VISITING!

FREQUENTLY ASKED QUESTIONS

What is Spinal Decompression Therapy?
| | |
| --- | --- |
| | Spinal decompression therapy is a non-surgical traction based treatment outcome for herniated or bulging discs in the neck and lower back. Anyone who has back, neck, arm or leg pain may be helped by spinal decompression therapy. |

How many spinal decompression sessions will be needed and are they painful?
The number of sessions needed and your specific treatment plan will be determined by the doctor after your examination.

In almost all cases, the treatments are completely painless. In fact, some patients fall asleep during the spinal decompression session.

What type of decompression system is used and are the doctors certified in spinal decompression therapy?
After a significant amount of research, Henderson Wellness Center chose the Kennedy Decompression Neural-Flex System, which we believe is the most technologically advanced, state-of-the-art decompression system in the world.

We also selected this decompression system due to its ability to treat discs in both the neck and the low back.

In regard to clinical skills, Dr. Brandon Taylor completed the Kennedy Decompression Technique course work and passed the qualifying examination to achieve the status of "Certified Practitioner" in spinal decompression therapy.

What Makes Spinal Decompression Therapy so Effective?
Doctor skill combined with the table and computerized traction head are the keys.

Proper assessment, correct positioning and the use of preprogrammed patterns of distraction and relaxation may reduce disc pressure allowing necessary nutrients to enliven and accelerate disc healing.

Who can benefit from Spinal Decompression Therapy?
| | |
| --- | --- |
| | Anyone who has back pain or neck pain caused in whole or in part by a damaged disc may be helped by spinal decompression therapy. These conditions include herniated, protruding or bulging discs, spinal stenosis, sciatica or even failed surgery. |

Are there medical studies that document the effectiveness of Spinal Decompression Therapy?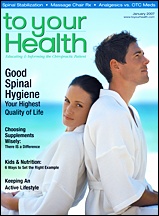 Yes! One study documented by MRI up to 90% reduction of disc herniations in 10 of 14 cases and other studies reported that the majority of ruptured disc patients achieved "good" to "excellent" results after spinal decompression therapy.
Click here if you would like to review the studies yourself or click here to read an article about spinal decompression that appeared in "To Your Health" Magazine.

Are there conditions where Spinal Decompression Therapy is not indicated?
Spinal decompression therapy is not recommended for pregnant women, patients who have severe osteoporosis, severe obesity or severe nerve damage.

Spinal surgery with instrumentation (screws, metal plates or "cages") is also contraindicated. However, spinal decompression therapy after bone fusion or non-fusion surgery, can be performed.

Are the sessions painful, how many will be needed and what is the cost?
Our customary fee for each spinal decompression session is only $65, which means the total cost will be a small fraction of the $5,000+ amounts that some other doctors are charging.

If your insurance company covers spinal decompression therapy, reimbursement varies but your out-of-pocket expense for all needed services could be as little as your co-payment.

If not covered by insurance, we offer CareCredit that will allow you to make 6 monthly payments with no interest. To apply for financing online and get instant approval in advance, just go to CareCredit.com.

.

.

Do most patients receive therapy and rehabilitative exercises in addition to Spinal Decompression Therapy?
| | |
| --- | --- |
| | To reduce inflammation and assist the healing process, supporting structures are treated with passive therapies such as ice/heat/muscle stimulation, accupuncture, chiropractic adjustments (as indicated) and/or active rehabilitation in order to strengthen the spinal musculature. |

How do I get started?
.
We want to make it easy for you to learn if you are a candidate for spinal decompression therapy. Just call our office at 252-430-8000 to arrange a consultation with one of our doctors.

Please remember to bring any MRI reports so the doctor can review them and best advise you about your treatment options.


To Talk to a Doctor or
Schedule an Appointment, Call
252-430-8000
Henderson Wellness Center
414 Dabney Drive
Henderson, NC 27536

Copyright MarketDecompression.com - All rights reserved. All materials and graphics contained on this site are protected by United States copyright law and may not be reproduced, distributed, transmitted, displayed, published or broadcast without the prior written permission of MarketDecompression.com. You may not alter or remove any trademark, copyright or other notice from copies of the content. However, you may download material from this website (one machine readable copy and one print copy per page) for your personal, noncommercial use only.
All contents of this web site are intended for use only by individuals currently under the active care of our clinic. These individuals, however, should first obtain the permission of our doctors prior to implementing any information, resources or tools contained herein.
Individuals who are not currently or have not previously been under the active care of our doctors are also welcome to view the contents of our web site. However, we strongly recommend against utilizing any of the information contained herein unless prior approval from our doctors or another licensed health care professional is obtained.
No individuals, including those under our active care, should use the information, resources or tools contained within to self-diagnose or self-treat any health-related condition. Diagnosis and treatment of all health conditions should only be performed by a licensed health care professional.